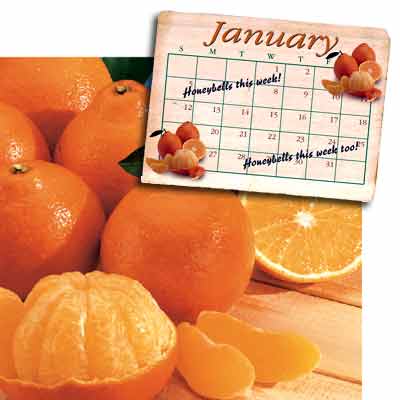 Fast Facts
Availability
Jan 2 to Feb 2
Status
Avail. Next Season
Shipped to
US* & Canada**
*excluding AK, HI
**excluding T, V, X, Y codes
Double Bells
Special Savings when you order this double delivery of Honeybells!
Does it always seem that just when you've finished the first taste of Honeybells the season has ended? We have the solution. We'll send your Honeybells in the first shipment of the season for arrival in early January. Then, around the last week in January, we will send your second shipment - and the shipping for the second pack is on us! One order - plenty of Honeybells.
Available packed with all Honeybells or mixed Honeybells and Ruby Red Grapefruit.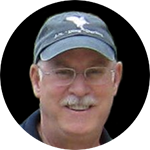 "We work hard to select only the finest fruit and deliver it in excellent condition. I Unconditionally Guarantee you and yours will enjoy our fresh Florida citrus."
Rick Del Greco
Owner, Florida Fruit Shippers
Availability
Florida Honeybells are available January to February to the lower 48 US states and eastern Canada.
First Honeybells
For earliest arrivals please order before December 22. Requests are filled in the order in which they are received. Regular shipping charges will be billed for this package.
Last Honeybells
Shipped for arrival January 31 to February 7. No shipping charge will be added for this package.
Double Bells Product Specifications
9 pc Tray Bells X 2
Package Particulars
  Two shipments; each one is:
  Recommended for:  1 person
  Orange-Grapefruit-Mixed?:  This pack is
    shipped all oranges only.
  Weight (approx.):  5 lb/2.25 kg
  Pieces (approx.):  9 Honeybells
  Available to: U.S. and Canada
1 Tray Equiv.Bells X 2
Package Particulars
  Two shipments; each one is:
  Recommended for:  1-2 person
  Orange-Grapefruit-Mixed?:  Specify mixed to
    include Ruby Red Grapefruit
  Weight (approx.):  9 lb/4 kg
  Pieces (approx.):  12-15 Honeybells -OR-
    6-8 Honeybells, 4 grapefruit
  Available to: U.S. and Canada
2 Value Trays Bells X 2
Package Particulars
  Two shipments; each one is:
  Recommended for:  2 persons
  Orange-Grapefruit-Mixed?:  Specify mixed to
    include Ruby Red Grapefruit
  Weight (approx.):  15 lb/6.8 kg
  Pieces (approx.):  18-20 Honeybells -OR-
    9 Honeybells, 6 grapefruit
  Available to: U.S. and Canada
2 Trays Bells X 2
Package Particulars
  Two shipments; each one is:
  Recommended for:  2-3 persons
  Orange-Grapefruit-Mixed?:  Specify mixed to
    include Ruby Red Grapefruit
  Weight (approx.):  18 lb/8.1 kg
  Pieces (approx.):  24-30 Honeybells -OR-
    16 Honeybells, 9 grapefruit
  Available to: U.S. and Canada
3 Trays Bells X 2
Package Particulars
  Two shipments; each one is:
  Recommended for:  3-4 persons
  Orange-Grapefruit-Mixed?:  Specify mixed to
    include Ruby Red Grapefruit
  Weight (approx.):  27 lb/12.25 kg
  Pieces (approx.):  36-45 Honeybells -OR-
    24 Honeybells, 12 grapefruit
  Available to: U.S. and Canada
4 Trays Bells X 2
Package Particulars
  Two shipments; each one is:
  Recommended for:  4-6 persons
  Orange-Grapefruit-Mixed?:  Specify mixed to
    include Ruby Red Grapefruit
  Weight (approx.):  36 lb/16.3 kg
  Pieces (approx.):  48-60 Honeybells -OR-
    32 Honeybells, 16 grapefruit
  Available to: U.S. and Canada
1 Tray Equiv. Mixed X 2
Package Particulars
  Two shipments; each one is:
  Recommended for:  1-2 persons
  Weight (approx.):  9 lb/4 kg
  Pieces (approx.):  6-8 Honeybells, 
    4 Ruby Red Grapefruit
  Available to: U.S. and Canada
2 Value Trays Mixed X 2
Package Particulars
  Two shipments; each one is:
  Recommended for:  2 persons
  Weight (approx.):  15 lb/6.8 kg
  Pieces (approx.):  9 Honeybells, 
    6 Ruby Red Grapefruit
  Available to: U.S. and Canada
2 Trays Mixed X 2
Package Particulars
  Two shipments; each one is:
  Recommended for:  2-3 persons
  Weight (approx.):  18 lb/8 kg
  Pieces (approx.):  12-16 Honeybells, 
    9 Ruby Red Grapefruit
  Available to: U.S. and Canada
3 Trays Mixed X 2
Package Particulars
  Two shipments; each one is:
  Recommended for:  3-4 persons
  Weight (approx.):  27 lb/12.25 kg
  Pieces (approx.):  24 Honeybells, 
    12 Ruby Red Grapefruit
  Available to: U.S. and Canada
4 Trays Mixed X 2
Package Particulars
  Two shipments; each one is:
  Recommended for:  4-6 persons
  Weight (approx.):  36 lb/16.3 kg
  Pieces (approx.):  32 Honeybells, 
    16 Ruby Red Grapefruit
  Available to: U.S. and Canada