Buyer's Guide to Florida Citrus
Buying Sol Zests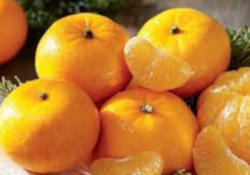 The Bottom Line
Sol Zests are a type of Mandarin orange that's seedless, easy-peeling, sweet, and perfect for kids and families. The Sol Zest was developed in Israel and is new to Florida, but we think you'll be seeing a lot more of them.
Buy Sol Zest Mandarins
Appearance
Sol Zests have a classic mandarin appearance–smaller and squatter than a navel or juicing orange, but not tiny. Their exterior is a pretty, golden orange and their skin is thin and super quick to peel.
Taste
Sol Zests are sweet, juicy, fruity, and somewhat delicate–a very easy citrus to like! Kids will love these.
Juiciness
These are soft, juicy fruit that melt in your mouth.
Seeds
One of the things that make these likable and so snackable is that they are seedless.
Eating out of hand
This is one of our top choices for eating out of hand.
Availability
Sol Zests are available right around the holidays…December through January. They make an amazing gift for a family.
Best Used For
We think Sols are absolutely perfect for snacking and lunchbox use. The sections also will work wonderfully on a green salad.
Why Should I Buy Sol Zests?
Buy Sol Zests because your family loves the small snack-size citrus that's popular these days but wants to "step up" to a gourmet version that's fresh from Florida.
Interesting Facts
Floridians, want to grow your own Sol Zest in your backyard? Well…you can't. Sol Zest is so special, it's only available to commercial growers like us right now. Sorry!
Mandarin oranges are an important part of Chinese New Year celebrations. The plump, golden fruit symbolize good luck and good fortune, as well as being delicious.
History
Sol Zests are pretty new on the scene. They are a type of "Orri" mandarin developed in Israel, and their parentage is still a bit unclear, though most say they're a cross between the flavorful Temple orange and Dancy Tangerine.